Mansion Guest Areas
The Front Parlor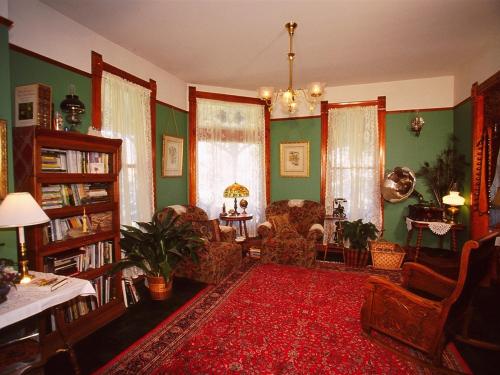 Huge windows of the mansion's two guests parlors offer views of the Bridger Mountains and Story Foothills. A rare seven-foot-tall 1897 Regina disc playing music box is the focal feature of the front parlor and provides magical sounds of a bygone era. Spend as much time as you dare reading from the library's large natural history resource collection highlighting the area's spectacular national parklands - Yellowstone, Grand Teton, and Glacier. We invite you to enjoy the delightful ambiance of Montana's Victorian past - the Lehrkind Mansion.
The Second Parlor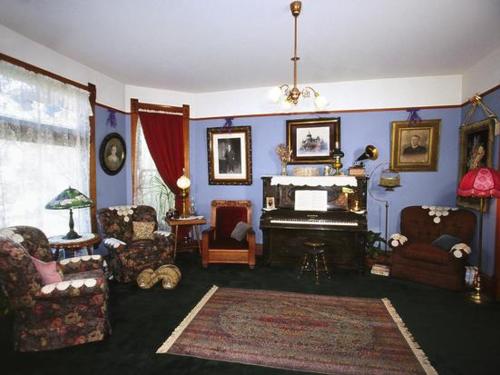 Curl up with a good book in front of the fireplace and enjoy the comfort of an overstuffed chair or one of the many antique rockers in the second or family parlor. You can always make a hot mug of tea or coffee as there is a self-serve tea/coffee station in the dining room. If you feel so inspired, feel free to play the piano or guitar and entertain yourself and others. There are also parlor games available for your enjoyment.
Dining Room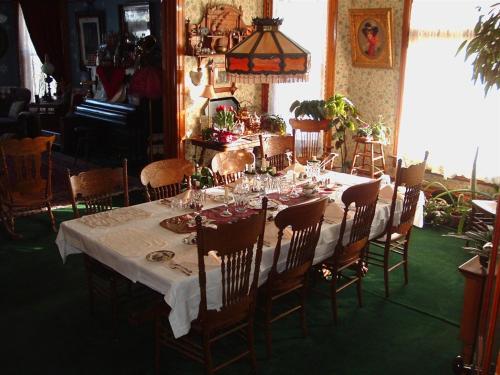 We bake (from scratch) wonderful organic homemade muffins as our complimentary continental breakfast offering. We place these tasty homemade muffins out as early as you like so that you can grab them to go (if necessary) for your day jaunt down to Yellowstone National Park, one of the surrounding ski areas, or the many National Forest trails. Or, better yet, linger in the dining room and parlors for stimulating conversation with other guests and your hosts. Pair our muffins with our fresh brewed organic, bird friendly, shade grown coffee or hot tea and enjoy the sunshine through the large windows as you watch all the exciting action at the bird feeders (they get seed and suet - not muffins - unless you are generous and provide crubs). Sit with your muffin and mug by the warmth of the fireplace in the 2nd parlor and just relax. There are several nearby restaurants, many within walking distance, if you are in search of a full breakfast. The Wild Crumb Bakery is only one block south and is definately the place to grab a tasty sandwich for an afternood hike or late morning drive down to Yellowstone.